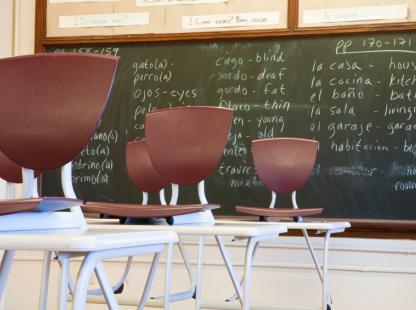 The ESL Program at NJIT
Welcome to NJIT's English as a Second Language Program!
The aim of the program is to assist those whose proficiency in English is limited. The program offers a wide variety of undergraduate and graduate courses, which give students practice in listening, speaking, and writing English. The courses also help students get acclimated with the American culture for complete participation in American life.
Admission & Grants
Undergraduates whose first language is not English and/or whose English proficiency is limited are required to take a special examination in English and enroll for the appropriate course in their first semester. Placement in the appropriate course (ENG 095 or the sequence HUM 099-SL & 100-SL) is based on performance in the examination. Tutoring is a required part of these courses. Students will not be permitted to enroll in cultural history courses until they have achieved satisfactory grades in HUM 099-SL & 100-SL (and ENG 095 if required).
The ESL Program also offers ESL sections of a number of courses in the Department of Humanities and Social Sciences. These sections carry full academic credit and are designed to help students strengthen their English language proficiency while also mastering course content. Enrollment in ESL sections of these courses is optional.
ESL sections include
HUM 211-SL
HUM 212-SL
ENG 340-SL
ENG 352-SL
LIT 320-SL
LIT 350-SL
STS 350-SL
Application forms for students applying for undergraduate and graduate studies can be found at http://www.njit.edu/admissions/apply-online.
The English as a Second Language (ESL) Program at NJIT has been awarded two two-year grants (for FY 2002 andd FY 2003) from the Education of Language Minority Students (ELMS) Grants Program , which is funded by the New Jersey Commission on Higher Education (CHE) .
ESL AND PROFESSIONAL EDUCATION
The grant project "ESL and Professional Education" will help language minority students strengthen specific communication skills needed for success in their professional fields, by developing ESL sections of several content courses.
Students at New Jersey Institute of Technology need high quantitative and/or technical skills in most courses in their majors. In addition, some of these courses make high-level English demands specific to their fields, beyond the preparation provided by completion of the ESL course sequence, terminating with Freshman Composition. The project "ESL and Professional Education" addresses this situation.
The goal of the project is to strengthen the ability of NJIT language minority undergraduates to deal with the specific language demands in their fields and, beyond that, to prepare them with specific communication skills needed for success in their professional fields. The need for helping students with these language demands is clear from a review of grade records and from comments of academic advisors, alumni and employers. Included in the project are individual components targeted at students in computer science, information systems, engineering technology, and architecture. In addition, there are several components of value to language minority students in all programs.
Development of optional ESL sections of content courses is one major approach in the project:
An ESL section of STS 350s, Computers and Society, has been created to assist students majoring in computer science and information systems.
An ESL section of HSS 202, Science, Society, and Technology, has been introduced to assist potentially all language minority students.
A Conference will be held bringing together language minority students and alumni to develop authentic materials and assignments for the already existing ESL section of ENG 352, Technical Report Writing, to assist students in computer science, information systems, and engineering technology.
An upper division course in Professional Oral Communications, ENG340S, will be created. The course will include practice for job interviews and in oral presentations in technical fields.
A section of HSS 100S, ESL freshman composition, will be developed for architecture majors.
WIRELESS WORLD: ESL COMPUTER/MULTIMEDIA LEARNING ENVIRONMENT
The grant project, "Wireless World: ESL Computer/Multimedia Learning Environment" ($152,595), was awarded to Nina Pardi, Special Lecturer. This project will use wireless technology to strengthen students' English language skills by bringing wireless computer laptops as a language teaching tool into the classroom in undergraduate ESL courses.
The aim of this grant is to strengthen English skills of language minority students at New Jersey Institute of Technology (NJIT) by creating a learning environment that goes beyond the confines of the traditional computer/multimedia lab. This learning environment will be created through wireless technology, which transforms the traditional computer/multimedia lab. The lab itself, seating 20 students and functioning as a classroom as well as a lab, will be located in a large room near the ESL offices and tutoring room. No longer limited to one particular layout by the "nailed in" wiring, furniture, and desktop installations of the traditional lab, this lab will be easy to rearrange to the optimal layout for any language class, group activity, or other use. Aside from extending the physical reach of technology in the ESL Program, Wireless World makes possible the use of computer/multimedia technology throughout the ESL curriculum. This technology is not used only within the ESL course sequence, but also in already existing ESL sections of culture, history, literature, and technical writing. Particular applications include the following:
Writing better research papers
Developing skills in collaborative writing and other team projects
Learning vocabulary, concepts and language tasks in required courses in cultural history.
The technology will also be central to the course to be created in professional oral presentations, ENG340S.
Along with this transformation within the lab/classroom (seating 20 students), the use of wireless technology will open up to computer/multimedia learning a large area beyond the computer lab, comprising the following additional locations:
The ESL Grammar Tutoring Lab (seats 12)
The ESL Office (includes a small tutoring room for 3-4)
A seminar room available for classes (seats 15).
A large meeting area (seats 35)
An additional group tutoring area (seats 12)
The university library (many study rooms, meeting rooms.)