Department News
News from the Department of Humanities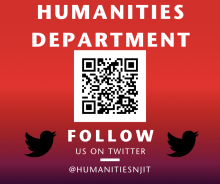 NJIT's Center for Ethics and Responsible Research (CER2) Awarded Major Grant to Support Burgeoning Field of Public Interest Technology
In partnership with researchers at Harvard University and Stanford University, Director of CER2 J. Britt Holbrook received a Public Interest Technology University Network (PIT-UN) Challenge grant to further support the critical new field of public interest technology. The project will compare and assess technology ethics classes at Harvard, Stanford, and NJIT. 

"PIT educators lack tools to evaluate their pedagogy," says Jeffrey Behrends, Lecturer on Philosophy and Harvard's Edmond J. Safra Center for Ethics' Director of Ethics and Technology Initiatives. "This award will yield first-of-their-kind evaluation tools that can be deployed across diverse institutions for the improvement of tech ethics pedagogy. This will help instructors better understand whether their approaches to tech ethics education are likely to advance their pedagogical goals, in part by illuminating how students perceive and respond to them."

The Public Interest Technology University Network is a partnership of colleges and universities convened by New America, the Ford Foundation, and the Hewlett Foundation. The network is dedicated to building the nascent field of public interest technology through curriculum development, faculty research opportunities, and experiential learning programs, in order to inspire a new generation of civic-minded technologists and policy leaders. The network and challenge grants are funded through the support of the Ford Foundation, Hewlett Foundation, Mastercard Impact Fund, with support from the Mastercard Center for Inclusive Growth, Patrick J. McGovern Foundation, The Raikes Foundation, Schmidt Futures and The Siegel Family Endowment. 
published 4 December 2020
---
Remembering Dan Drew, Rutgers/NJIT Theatre Program Technical Director and Beloved Mentor to Many
It is with great sadness that NJIT's Humanities Department and the Rutgers/NJIT Theatre Program announce the loss of our beloved colleague, Dan Drew. In Dan's memory, the Rutgers/NJIT Theatre program posted this announcement: 
On Friday, November 13, 2020, the Rutgers/NJIT Theatre Program and the wider Rutgers and NJIT families lost a friend, a mentor, a colleague, an educator, and a first-rate theatre designer and technical director, Dan Drew.
Dan, who lived in Newark with his family, worked at the NJIT Theatre from 1986 until 1996, when he moved to Rutgers University-Newark's Theatre Program to take over operations of the Bradley Hall Theatre. His Theatre Program set designs on the intimate Bradley Hall stage and in the larger NJIT Jim Wise Theatre were a wonder year after year. He worked with the NJIT EOP (the Educational Opportunity Program for educationally and economically challenged students underrepresented in science, technology, and engineering) as well as other campus organizations. He was also a key figure in organizing the NJIT Commencements while playing a leading role for many years as one of the officers introducing graduates at the Rutgers University-Newark graduation ceremony. But, despite his many accolades and achievements, what Dan did best was to serve as a mentor, guide and, fittingly, as a father figure of sorts to students through their undergraduate years and beyond, befriending as well as keeping up with them after they graduated as their careers progressed, whether in theatre or in other areas altogether.
On social media, current and former students and colleagues posted outpourings of memories and appreciation for Dan's legacy of service to his students. "Anyone who even had one conversation with Dan Drew was able to feel his warmth, kindness, and the immense passion he had inside him for not only theatre and production, but also teaching and shaping formidable minds and helping each and every single student who came through Rutgers Newark and NJIT reach their full potential," said Daveed Ben-Arie, SASN '20, on an Instagram post.
Lillian Ribeiro, RBS'01, who teaches the "From Page to Stage" course at Rutgers-Newark and recently became a Registered Drama Therapist said "Theatre does not exist for me without Dan Drew. I am devastated by his loss. At 19, I met my wonderful, talented theatre mentor, who pushed me beyond my limits in Newark at the Rutgers-NJIT Theatre Arts Program. I can honestly say, anything I have built, I owe to Dan. Even all my properly sanded beautifully varnished kitchen cabinets that I did by myself, all my knowledge of saws, power tools and hanging of lights I owe to Dan. If you imagined it. He could build it. And he taught his students how to build. Dan taught us how to make a stage magical."
Dan leaves behind his wife, Susan Drew, son Dan, and daughters Mary Kate and Teresa. Dan Drew, Jr. could frequently be found on campus checking in with his father.
Teresa posted a heartfelt message on her Facebook hours after her father passed away. "Do not store up your treasure here on earth, where it will grow rusty, and moth-eaten, and thieves will break in to steal it. No, store up your treasure in heaven; where there is no rust, and no moths, and no thieves to break into steal it. For where you store your treasure, there also lies your heart."
She continued,"Early this morning, our beloved dad, our mom's best friend, went home to God. We weren't ready for him to go, but none of us ever will be. During his time here on earth, he spent every minute spreading the love in his heart to all he met. He treated everyone like family and radiated the sheer joy of God in everything he did. And this morning, he is joyously in the presence of his Creator, enjoying the treasure he has spent his life storing in heaven. While we are absolutely devastated by this, we are comforted in knowing that he is in paradise, leading the heavenly choir."
Eric Johnson, who worked closely with Dan at Rutgers, said "At all Rutgers/NJIT Theatre Program cast parties, he led the 'Goodbye to the Show' ceremony. This gave students who had worked on the production the opportunity to reflect on their accomplishments, to hear the music, and see the lights take a bow on the set they built and performed on.  This brought closure to the project so the excitement for the next production could commence.  We would all raise our soda and water bottles to Dan's resounding voice as he would have us repeat a cheer created from the show, Merrily We Roll Along, 'Here's to us. …. Who's like us? …. Damn few'. Later the tag line was added '…. and they're dead.' There are no words to express how much Dan will be missed by his beautiful family, the students and his friends. Dan Drew has taken his final curtain call, and my goodness, what an incredible performance it was."
Information about visitation and funeral arrangements can be found at: https://www.oboylefuneralhome.com/obituaries/Daniel-A-Drew?obId=18973570#/obituaryInfo .
Dan's family requests that you share your stories of Dan Drew on social media using #rememberingdandrew so that his family and colleagues may also see the many lives he touched.
published 17 Nov 2020
---
Applied Improvisation Network New Executive Board Member, Louis Wells. 
On November 5th, 2020, Louis Wells, a senior lecturer and artistic coordinator for Theatre Arts and Technology at NJIT through the joint Rutgers/NJIT Theatre Program, was elected to the executive board of the Applied Improvisation Network. 
The Applied Improvisation Network is an international community of practitioners who seek to grow the work of applied improvisation, which is an emerging field of study and practice that uses traditional theatrical improvisation principles outside of a performing context. Applied improvisation has been shown to improve collaboration, individual and group creativity, and communication skills for STEM disciplines, among others.
Louis Wells has led the way for applied improvisation practices to emerge at NJIT. He has gone on to report on that work at the yearly Applied Improvisation conference. In 2015 Louis presented on teaching improvisation at a STEM university. In 2018 he collaborated with the First-Year Writing Coordinator in the Humanities Department, Dr. Megan O'Neill, and presented their work on using improvisation in first-year writing courses.
The board position shows how much the greater applied improvisation community is including the work being developed at NJIT by Louis Wells. 
published 17 Nov 2020
---
NJIT Humanities Faculty Featured at the Newark Short Film Awards
Professor Rodney Reyes, instructor and production manager of the NJIT Theatre Arts & Technology Program, was submission coordinator for The third annual Newark Short Film Awards (NSFA) for a second year. NSFA returned this year on October 10th to offer an in-person and virtual-line up. The event continued to highlight and celebrate up and coming filmmakers by hosting screenings and celebrity panel discussions, and also awarding imaginative and creative work. Films were submitted in the categories of Comedy, Documentary, Narrative, and Best Student Film. 
Over 100 submissions were entered, including those from outside of the United States. Out of all 100 submissions, 22 were selected to screen at the event, with 3 of those films from international filmmakers including one from France which won Best Narrative titled "Morituri." NJIT's Theatre Arts & Technology's Rodney Reyes acted as submissions coordinator for the second year in a row helping to curate the programming of selected films.
The Newark Short Film Awards was a highlighted event of this year's Newark Arts Festival and with this designation and partial funding from the Newark Arts Start Grant tickets were free for an all-access pass. This entry included entry to the Livestream panel discussion "Equity in Media: A Critical Conversation" featuring actors, producers, and filmmakers: Warrington Hudlin, Adam Richlin, Leah Faye, Rikarlo Handy, and Marija Abney.
published 15 October 2020
---
The New Yorker Reviews Dr. Calista McRae's New Book!
The Selected Letters of John Berryman
The Selected Letters of John Berryman, edited by Dr. Calista McRae and Philip Coleman (Trinity College, Dublin), was recently reviewed in the October 19th, 2020 issue of The New Yorker. 
Published by Belknap Press: An Imprint of Harvard University Press earlier this month, the collection "assembles for the first time the poet's voluminous correspondence. Beginning with a letter to his parents in 1925 and concluding with a letter sent a few weeks before his death in 1972, John Berryman tells his story in his own words."
published 13 October 2020
---
Digital Writing Seminar with Dr. Andrew Klobucar, October 21, 2020. 
KlobucarFlyerDraftFall2020.jpg
Dr. Andrew Klobucar will host "The Community and the Algorithm: Creative Writing Experiments with NLP and Text Generators", an online writing workshop,  on October 21, 2020, as part of the Humanities Department Fall Colloquia Series. 
With the emergence of the first computer programming languages over 70 years ago, there appeared almost simultaneously a plethora of different algorithmic templates for text generation, many of which we still use today. In more recent years, Natural Language Processing (NLP) technologies have progressed to a level where complete, highly readable sections of prose can be instantaneously produced bearing very little distinction from anything we might imagine a human conceiving and writing.  
This workshop will first review current generative, combinatory techniques for writing creatively with NLP tools. Participants will then collaboratively engage in their own online atelier, using a software prototype, "The Language Workbench," developed by Klobucar for algorithmic poetry, computational literature, and text analysis. The Workbench will demonstrate how the "web" itself operates simultaneously as a communication tool and a multimedia production space, redefining, in the process, online aesthetic experiments in terms of active social relationships.
Link to connect to the session is njit.webex.com/meet/klobucar (no advanced registration required)
published 13 Oct 2020
---
New Jersey Alliance for Clinical and Translational Science awards Dr. Yelda Semizer!
Dr. Yelda Semizer receives Propel Award from New Jersey Alliance for Clinical and Translational Science to fund her research on medical image perception. Dr. Semizer's project investigates how radiology experts make use of texture information during the diagnostic process. She is interested in characterizing the statistics of abnormality that is present in the breast tissue and synthesizing new tissue using that information. She also seeks to understand how radiologists develop these types of expertise through their training. 
published 12 October 2020
---
Fall 2020 Humanities Department Seminar Series Kicks off with Kimmelman's "Architecture, Art & the Czech Conversation in 2018" on September 30th!
On September 30, 2020, Dr. Burt Kimmelman, Distinguished Professor of the NJIT Humanities Department, will begin our Fall 2020 Colloquia series at 2:30 pm with his live-streamed presentation titled, "Architecture, Art & the Czech Conversation in 2018". To kick off this series, Dr. Kimmelman responded to a few about the nature of his discussion and its background.
"My talk is informed by two articles I published, which were written during my sabbatical leave in Spring 2018, when I lived in Prague with my wife, the writer Diane Simmons; she was teaching there as a Fulbright fellow" Kimmelman explained. Kimmelman and Simmons first came to know the beauty of Prague when they were invited to the Anglo-American University, where they gave a reading in 2014. "When we did, we discovered a society like no other, one that strikes me now as pivotal to comprehending the relationship between Western and Eastern Europe" he added. 
"Architecture, Art & the Czech Conversation in 2018" draws from a series of articles published by Kimmelman in the Journal B O D Y in October of 2018. This collection of essays features the architecture and art of the vibrant city of Prague, shining a historical light on them, revealing a very old and great society still trying to find its ballast after five hundred years of subjugation. The talk is meant to accompany what is its centerpiece: a large number of architectural and art images, almost exclusively made in Prague.
In Kimmelman's three-part essay with B O D Y, "Prague and Memory"(October 2018), he elaborates, "Absurdism and subversion are endemic here. Indeed, they make up the fabric of Czech life at a signal moment in Czech cultural-political history. They merge to become a third, exquisitely sharp, subtle, element in the Czech psyche: hilarity. It threatens the release of chaos into the Bohemian bloodstream."
The Humanities Department is delighted to have Dr. Kimmelman share his research with us on September 30, 2020. If you would like to attend this lecture series, please RSVP here. This will be the first in a series of seminars hosted by the Humanities Department during the Fall 2020 Semester. For more information, check out our calendar on the Humanities page.
---
The STS Professional Society Hosts Panels by Dr. Edel and Dr. Tyrol
University Lecturers Dr. Gareth Edel and Dr. Kate Tyrol collaborated on a panel at this year's virtual meeting of 4S (the STS professional society) August 18 - 21. Edel, a scholar of medical humanities, conceived of and organized two panels on the topic of "Defining the Patient in Biomedicine". Tyrol, one of the panelists, presented a portion of her dissertation research, entitled "Knowing Patients: Discourses of Knowledge in the Post-Weight-Loss-Surgery Community". Despite the virtual setting, the panels produced lively and insightful conversations with several audience members.
published 2 September 2020
---
Dr. J. Britt Holbrook Advanced to Associate Professor!
The Department of Humanities congratulates Dr. J. Britt Holbrook on receiving tenure and promotion to the rank of Associate Professor. Holbrook joined the Department in September 2015 after two years as Visiting Assistant Professor at Georgia Tech's School of Public Policy. His research combines topics relevant to contemporary science policy (open science, open access, altmetrics, broader impacts requirements for grants) and of perennial concern (ethics education, peer review, academic freedom, the role of the university in society). He teaches courses in Engineering Ethics, Technology and Policy, Logic, Philosophy of Science, and Sports, Technology, and Society. Holbrook served on the AAAS Committee on Scientific Freedom and Responsibility from 2012 – 2018 and as a member of the European Commission Expert Group on Indicators for Open Science in 2019. He is also co-Chair of NJIT's Institutional Review Board.
---
Dr. Yelda Semizer, Postdoctoral Associate of MIT, Joins the Humanities Department!
It is with great excitement that the Humanities Department is pleased to announce the onboarding of Dr. Yelda Semizer as Assistant Professor of Cyberpsychology. 
Semizer joins NJIT from Massachusetts Institute of Technology, where she is a postdoctoral associate in the Computer Science and Artificial Intelligence Laboratory. She completed her Ph.D. in the Computational Vision and Psychophysics Laboratory at Rutgers University and earned master's degrees in Statistics, Cognitive Psychology, and Psychological Sciences. 
Dr. Semizer uses computational modeling, behavioral psychophysics (the study of physical stimuli and the sensations and the perceptions they produce), and eye-tracking to determine how the human visual system integrates sensory information to make perceptual judgments. The aim of her research is to understand what limits the visual system and how and when it overcomes those limitations to maximize performance. For example, she studies how visual clutter interferes with finding objects in visual displays, as in daily life, an overstuffed handbag can frustrate the search for keys. 
On another front, her recent collaborative work on medical image perception focuses on identifying signs of tissue abnormality associated with breast cancer from X-ray images. Radiologists can detect an abnormality in the breast without sampling tissue directly from the lesion. She seeks to characterize these non-localized signals of abnormality and has synthesized new tissue using that information to determine whether radiologists can use texture information to make accurate diagnoses. 
Dr. Semizer served for two years as a co-organizer of the Object Perception, Attention, and Memory conference, which is a platform for early-career scientists. She has received competitive awards from the Vision Sciences Society and the Cognitive Science Society, as well as the Elsevier/Vision Research Award for Excellence in Vision Science Research.
published 31 August 2020
---
The Humanities Department Welcomes Dr. Julie R. Ancis as Director of Cyberpsychology!
The Humanities Department is pleased to announce the appointment of Dr. Julie R. Ancis as professor and inaugural Director of the Cyberpsychology Program at the New Jersey Institute of Technology.
Dr. Ancis is a Fellow of the American Psychological Association (APA) (Divisions 17 and 35). She has been active in leadership roles in the American Psychological Association and other organizations, such as serving as Chair of APA's Society of Counseling Psychology's Section for the Advancement of Women. She has received a number of awards and honors, including Woman of the Year from the Section on the Advancement of Women and Georgia State University Outstanding Research Award.
Prior to her current position, Dr. Ancis served as the Associate Vice President for Institute Diversity at Georgia Institute of Technology and was affiliated with the School of Psychology. Dr. Ancis was Principal and Co-Principal Investigator of 6 million dollars in grant funding from the Department of Education and the National Science Foundation. Prior to Georgia Tech, Dr. Ancis served as a tenured Psychology Professor at Georgia State University for 15 years.
 Dr. Ancis' extensive scholarly publications include 4 books, approximately 70 journal articles, book chapters, and technical reports; and over 200 professional presentations focused on diversity, cultural climate, and its impact in multiple arenas, and the legal system. Scholarly books include Gender, Psychology and Justice: The Mental Health of Women and Girls in the Legal System (NYU Press), The Complete Women's Psychotherapy Treatment Planner (Wiley), Culturally Responsive Interventions: Innovative Approaches to Working with Diverse Populations (Routledge), and Promoting Student Learning and Development at a Distance: Student Affairs Concepts and Practices for Televised Instruction and Other Forms of Distance Learning.
Dr. Ancis' current research focuses on the impact of social media, critical thought, and misinformation.  She is a Featured Author with Psychology Today. Her Cyberpsychology Page can be found here: https://www.psychologytoday.com/us/blog/the-cyberpsychology-page
published 31 August 2020
---
Dr. Charles R. Brooks Appointed Professor of Practice! 
The Humanities Department welcomes the addition of Dr. Charles R. Brooks (Chuck) as Professor of Practice. Holding a B.S. degree in Engineering from the United States Military Academy at West Point, as well as an M.A. and P.H.D. in Cultural Anthropology from the University of Hawaii at Manoa, Dr. Brooks joins the department after fulfilling prior roles at NJIT that include Senior University Lecturer, Assistant Dean of CSLA, Founding Director for the Office of Academic Assessment, and Executive Director for the Office of Institutional Effectiveness.
Besides teaching courses at NJIT, Chuck has taught at Rutgers-Newark, John Jay College of Criminal Justice, New York University, New York City Technical College, Fashion Institute of Technology, University of Hawaii, and Chaminade University of Honolulu. Courses he has taught include Introduction to the Four Fields of Anthropology; Introduction to Cultural Anthropology; Psychological Anthropology; Culture and Personality; Linguistic Anthropology; Anthropology of Religion; Shamanism; World Religions; Race and Ethnicity; Environment, Society, and Technology; and English as a Second Language.
He is the author of The Hare Krishnas in India (Princeton University Press) as well as book chapters and journal articles on culture change, organizational culture, social problems, and program evaluation. He has also provided over thirty unpublished evaluation reports to government and non-governmental organizations. One of Dr. Brooks' current research interests is humans as cybernetic organisms, otherwise known as Cyborgs.
published 31 August 2020
---
Humanities Department Faculty Featured in The Columbia Review
Humanities Department instructor Michael Coppola recently published his latest creative work, "Paris" in the current edition of The Columbia Review, Spring 2020. Volume 101, Issue number 2. "Paris" is a cross-genre piece of poetic flash fiction that is part of a larger manuscript of cross-genre works of prose poetry and experimental fiction in dialogue. The project is concerned with sense of place, place attachment, home, loss of home, foreign home, foreign place, and real places vs virtual places including mental landscapes. Michael lives in Europe part of the year and his time divided between places has informed the work. 
published 31 August 2020
---
Remembering Dr. Rolanne Henry: Educator, Colleague, and Friend
It is with a heavy heart that the Humanities Department announces the passing of our esteemed colleague and friend, Dr. Rolanne Henry. Dr. Henry passed away on July 6, 2019, at 77 years of age. 
Dr. Henry was a beloved Senior Lecturer of the Humanities, having dedicated many years of her remarkable career to her passion for illuminating her admiring students at NJIT with her wealth of knowledge, her love for life, and her benevolent personality. Former pupils of Dr. Henry recounted that they were, " lucky to have her for two classes. She was such a kind professor." In addition, students remember how Dr. Henry was full of stories about her own life adventures and accomplishments. An avid traveler with an insatiable curiosity for new experiences, one student recalls, "I loved to chat with her about travel after class. She was always so passionate about every single place she'd ever been."
Friends, colleagues, and family of Rolanne honor her memory by recalling her as  "a talented, accomplished woman who enjoyed widespread interests that she pursued with enthusiasm. Her family, colleagues, and friends will miss her genuine good humor, her active mind, her unceasing desire for new adventures and new learnings, and her independent spirit." A pioneer of her time, Rolanne was an accomplished scholar, having earned her "Bachelor of Arts degree from Douglass College (Rutgers University), a Juris Doctor degree from Rutgers University School of Law, a PhD from Columbia University, and a Master of Laws (LLM) from NYU."
The NJIT Department of Humanities is privileged to have had such a trail-blazing and accomplished scholar in our midst. Rolanne will be remembered for her dedication to her role as an educator, as well as for the jovial atmosphere she selflessly gifted to our NJIT family.
published 28 August 2020
---
Dr. Burt Kimmelman Adapts the Abstractionist Aesthetics of Artist Basil King!
Published earlier this year, Light Abstracts the Smallest Things: The Aesthetics of Basil King, a collection of critical writings edited by Humanities professor Dr. Burt Kimmelman, reflects upon the lives of Basil and Martha King. In this exploration, Dr. Kimmelman's introduction to the volume as well as the essay he contributes to it, delve into how the singular aesthetic vision, shared by the Kings along with other artists and writers of the American avant garde, influenced the evolution of the arts after the Second World War. A note on the book's back cover (furnished by Talisman House, Publishers) elaborates on how the "lucid essays" within "do not merely provide welcome insight;" as well, "they take us into the heart of the matter, in their involvement with the Kings's "extraordinary accomplishment, and its place within our cultural history."
Because of his expertise, a long-standing commitment to his subject, and his unmatchable creative drive, after 32 years of dedicated instruction to the university, Dr. Burt Kimmelman was recently awarded the title of Distinguished Professor of Humanities. In 2015, he was awarded The NJIT College of Science and Liberal Arts Distinguished Research Award. Light Abstracts the Smallest Things is Kimmelman's 18th long-form publication. It is a welcome addition to the body of poetry and criticism that makes up Kimmelman's outsized collection of works written under the umbrella of NJIT. If you are interested in learning more about Dr. Kimmelman's prolific body of scholarship, you can visit his NJIT faculty website at https://web.njit.edu/~kimmelma/ and his professional website at http://burtkimmelman.com/.
Meet Your Professor! 
Watch Dr. Kimmelman read from his 2019 poetry collection, Wings Apart (Dos Madres Press, 2019)!
Check out this two-part interview with Dr. Kimmelman on Youtube!
published 28 August 2020
---
The New York Review of Books praises Nightingales in Berlin, a new book by Distinguished Professor Dr. David Rothenberg
Dr. David Rothenberg's book, Nightingales in Berlin, was recently reviewed in the New York Review of Books Summer Books issue. In an in-depth appraisal of his new publication, Michelle Nijhuis writes, "Rothenberg urges his readers to listen more closely to what other species might be trying to tell us." Dr. Rothenberg explains of the nightingale's song that "Its rhythms are not boring, its melodies continue to surprise. We can never quite get it, this song intended for nonhuman ears."
Having dedicated 28 years of dynamic instruction to NJIT, Dr. Rothenberg currently holds the respected title of Distinguished Professor. He specializes in sharing his wealth of knowledge in the subjects of Philosophy and Music with NJIT's diverse undergraduate community. Nightingales in Berlin is Rothenberg's fifth full length publication concerning the mysteries of faunal soundscapes. You can learn more about Dr. Rothenberg's unique collection of scholarly work by visiting http://www.davidrothenberg.net/
If you are interested in checking out David Rothenberg's other creative endeavors, follow the links below:
 Watch Nightingales in Berlin: A Film by David Rothenberg on Vimeo
Listen to "They Say Humans Exist", a new album with contributions by David Rothenberg on Spotify
Watch "Newark Seen and Unseen: NJIT takes on Teju Cole's Blind Spot", a short film by David Rothenberg on Youtube
published 27 August 2020