Department News
News from the Department of Humanities and Social Sciences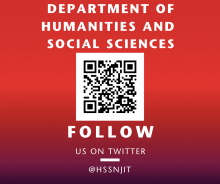 Department of Humanities and Social Sciences Professor David Rothenberg Featured in BBC Music Magazine's "The best world music recordings released in 2021 so far"!
BBC Music Magazine mentions, "Another hugely successful collaborative project that's also very relaxing is In the Wake of Memories, 'music of hope and survival' which sees Syrian oud player Wassim Mukdad, subtly creative German percussionist Volker Lankow and American clarinetist David Rothenberg create breathtakingly gentle 'meditations on resilience, empathy and love'." Read more here!
---
Theatre Arts and Technology Director Michéle Rittenhouse Receives 2021 the Overseers Excellence in Service Award
Michéle Rittenhouse, Director of NJIT's Theatre Arts and Technology program, was awarded this year's Overseers Excellence in Service Award for decades of hard work and dedication to her program. As Director of Theatre Arts and Technology, Michele has labored tirelessly to create a versatile and dedicated team that works with new ideas and concepts and regularly and consistently seeks ways to interpret students' needs to make their lives a bit better through the arts. 
---
 A New Brand of Ethics: NJIT's New Center Trains Tomorrow's Responsible Researchers
Working alongside faculty from NJIT's College of Science and Liberal Arts and Newark College of Engineering, Dr. Britt Holbrook directs the university's new Center for Ethics and Responsible Research (CER2). Its aim is to create a campus-wide culture of ethical STEM that permeates everything from NJIT's faculty research to its academic programs. Read more here!
published 1 September 2021
---
NJIT Science, Technology, and Society Major Braeden Perdue Speaks at White House COVID-19 Press Event with Dr. Fauci!
Department of Humanities and Social Sciences student, Braenden Perdue, got an unexpected invitation to join Dr. Fauci and Second Gentleman Doug Emhoff at a press event for the White House COVID Response Team's "Back to School Vaccination Week of Action" (Aug. 7-14). Read more here!
published 12 Aug 2021
---
Dr. Andrew Klobucar Publishes New Digital Humanities Collection with Vernon Press
Department of Humanities and Social Sciences professor, Dr. Andrew Klobucar, has published a new exploration into the Digital Humanities with Vernon Press, set to be released in September 2021. Dr. Klobucar explains of the collection:
"By complementing the community with algorithmic computation, this book takes into consideration two entities that supposedly rarely see eye to eye. However, each of the digital literary projects analyzed in this book emphasizes collaborative ingenuity over individual inspiration, some using tools and code supplied by immense corporations, others depending on the designs of experimental media collectives. Just as our own physical bodies provide ample repositories for a host of microorganisms, so too must our current network of media devices be understood as mere gateways for a seemingly endless supply chain of innovative impulses and information patterns. Computation introduced more than calculation to the Humanities and Arts when mainframes first "spoke" to each other almost 60 years ago; it facilitated an exciting range of new creative relationships. Several of the leading voices in the digital arts come together for this volume to discuss and offer insights into how we might critically understand what is to write and read in today's wholly networked cultural ecosystem." 
Learn more about this ground-breaking collection here!
published 29 June 2021
---
Tune In Podcast Fans: Check Out These NJIT Podcasters Making Waves
Written by: Jesse Jenkins
Got a can't-miss podcast idea that could be next Serial, Pod Save America or Ricky Gervais Show? 
There's a growing student-podcasting community for aspiring broadcasting personalities at NJIT thanks in part to a new podcasting production course launched this past spring by NJIT Communications and Media Program Director Christopher Funkhouser. Funkhouser is imparting his nearly 40 years of broadcasting expertise to students with flair for chatting on the mic and getting creative. 
Already, some of his protégé's are off making waves this summer — telling stories, interviewing special guests, reviewing tech, movies, games and more. And while the new course for the fall is already filled, Funkhouser says it's now here to stay as part of the regular Communication and Media curriculum due to popular demand.
"With how popular the medium of podcasting is now, especially throughout the pandemic, I thought the time was right to offer a virtual radio/podcast practicum that gives students everything they need to professionally design, edit and produce podcast episodes. We had more than a dozen skillful podcasts produced by students this spring, who really rose to the occasion to say something to the world about what they know," said Funkhouser.
With that, we've highlighted a few other NJIT-related podcasts from both students and faculty on campus to check out this summer:
The Greatest Song Ever Sung (Poorly) — with Adam Wainwright '22 
Got an itch to sing other people's songs in public that doesn't exactly stop when you leave the karaoke bar? NJIT media/communications student Adam Wainwright discusses the world through the lens of a "karaoke addict" in a podcast he describes as "the direct result of when boredom meets fandom."
Mind Theatre — with Ayo Akingbade '22
In less than 10 minutes, NJIT media and communications undergrad Ayo Akingbade presents bite-sized essays on television, film and the arts, revealing what makes them so compelling. New episodes every other Monday.
Soundwalker — with David Rothenberg
NJIT Humanities Professor, author and musician David Rothenberg sits down with an incredibly diverse variety of guests, from anthologists and environmentalists to world famous composers, in series of one-hour talks about music, nature and sound from the world around us.
Poet Ray'd Yo — with Christopher Funkhouser 
Since 2015, Funkhouser has been producing the Poet Ray'd Yo radio program on WGXC in Hudson, NY, featuring live guests/performances, as well as recordings he has made of poets over the past three decades. Guests have included C.A. Conrad, Bernadette Mayer, Fred Moten, Joan Retallack and many others. New episodes on the fourth Thursday of every month.
published 17 June 2021
---
NJIT's David Rothenberg Joins the Cicada Musical Reunion Tour, 17-Years in the Making
Written by: Jesse Jenkins
The date is May 11, 2004. 
The TV sitcom Friends just aired the finale of its 10th and final season, Usher's hit single "Yeah!" is giving way to Maroon 5's "This Love" atop the Billboard Top 100 and Massachusetts is about to become the first U.S. state to legalize same-sex marriage.
But lurking under the ground, a seismic event in the insect world was also happening. 
Hundreds of millions of buzzing, red-eyed "Brood X" cicadas were staging a mass takeover of the U.S. East Coast after living underground and feeding off of tree roots for 17 years, bringing with them a very short list of things to do and just a few weeks to do them in:
Molt, sing their deafening songs from the treetops, mate as much as possible, lay eggs and die.
But now, in case you hadn't heard, they're back. 
The next generation of Brood X cicadas has been sprouting from the ground this summer, repeating the 17-year cycle all over again while spreading their unmistakable maraca-like buzzing across 15 states since early May. 
For a nature-inspired musician like NJIT Humanities Professor David Rothenberg, it's been an occasion not to be missed, akin to a Rolling Stones or Grateful Dead reunion tour for classic rock fans. 
"I've been waiting 17 years, of course!" said Rothenberg. "I've wanted to bring different musicians into the mix for this and hear what they all do when confronted with millions of screaming cicadas for the very first time. We've had a great crew of saxophonists, drummers, bass players, and more TV crews than one could ever imagine."
Rothenberg has spent early June playing jazz clarinet in-and-among the thick swarms of cicadas in Princeton's Battlefield Park and Mountain Lakes Preserve for what many consider the Woodstock of NJ's cicada festivities this month. 
The Brood X cicadas, comprised of three species — Magicicada septendecim, Magicicada cassinii and Magicicada septendecula — are among the largest of the 15 cicada populations found around the world, dominating the Eastern U.S. exclusively at more than one million cicadas per acre since their synchronized emergence.
Swarms of cicada males are known to be able to drown out the sound of everything from passing cars to lawnmowers with their mating calls, which are created by vibrating drum-like organs (tymbals) in their abdomen and can be heard by females up to a mile away. Image credit: David Rothenberg
Rothenberg has made a name chronicling his jam sessions with everything from Arctic whales to park nightingales in Germany, but he also considers himself a "cicada groupie." He has previously traveled across the U.S. to play with various other broods since 2011, recounting those experiences in his book Bug Music, and the films, Song of the Cicadasand Cicada Music in Ohio.
And just like any digital age superfan would do to find out where the party is at this summer, he and his fellow musicians are using a special app to find out where the thickest cicada swarms are making the biggest buzz. 
"We've found ourselves in some pretty surprising situations [tracking these swarms], but some beautiful music has been played nevertheless," Rothenberg said. "The sound has transported us all to another world. It feels like we are all emerging, we feel the end of this pandemic coming soon, and are so happy to be outside celebrating in song … just like the cicadas."
While his recent Princeton performances have attracted their own swarms of media attention, the Brood X musical tour doesn't quite end there for Rothenberg. He's added stops in Baltimore — for concerts in Herring Run Park and "Cicada Fest" at Atomic Books — where he's teamed up with field recording experts to record an album that will capture the cicadas in the richest detail yet, using stereo parabolic microphones for the first time. 
For now though, Rothenberg says he's just soaking up the experience, and perhaps taking a bit of the Brood X attitude — "We're here for a good time, not a long time." — with him.
"We can learn so much from the other musicians on this planet. Hearing music in the songs of insects, sounds they have literally been preparing for seventeen years underground to make for a few weeks, connects us ever closer to the natural world and gives us a way to share in its beauty." 
For more about the 2021 Brood X cicadas and Rothenberg's music with them this summer, check out Rothenberg's Radiolab show and read more here.
published 15 June 2021
---
Dr. Britt Holbrook Discusses Inclusive Undergraduate STEM education
Britt Holbrook, an associate professor of philosophy in the Department of Humanities and Director of NJIT's Center for Ethics and Responsible Research, has been quoted in an article about the AAAS-IUSE Summer Labs, which focus on undergraduate STEM education. AAAS (the American Association for the Advancement of Science) has partnered with the NSF (National Science Foundation) to put together programming for recipients of grants from the NSF IUSE program. The Principal Investigator on an IUSE grant to test an experimental approach to engineering ethics education, Holbrook was asked to present on the first day of the summer series. 
published 15 June 2021
---
Dr. Jonathan Curley Publishes New Poetry Collection with Marsh Hawk Press!
Department of Humanities Professor, Dr. Jon Curley's fifth poetry volume, Remnant Halo, will be published this June by Marsh Hawk Press. This work is a long poem exploring poetry and personhood during the pandemic. It seeks to provide a creative reflection on various catastrophic developments and damages, personally and collectively.
Curley's previous volumes are New Shadows, Angles of Incidents, Hybrid Moments, and Scorch Marks. Curley is a Senior University Lecturer of Humanities who devotes much attention to Newark in his classes and this book-length anti-epic poem. Newark poet and activist Amiri Baraka (1934-2014) is an informing presence for this work as well.
This book is dedicated to his Fall 2020 poetry students: "Verse Versus Virus!"
published 27 May 2021
---
Spring 2021 Department of Humanities Seminar Series Kicks Off February 17!
The Department of Humanities begins Spring 2021 with a new slate of seminars by members of our accomplished faculty. Beginning on February 17th at 2:30 pm with Dr. Catherine Siemann's discussion on writing historical fiction, the series also features Dr. Daniel Estrada on March 10th, where he will discuss AI ethics, and Dr. Deborah Morrison-Santana on April 14th, where she will examine the role of the military during the Obama Administration. 
Open to the NJIT community, this series is a continuation of the Department of Humanities' exhibition of faculty research and academic pursuits. Each seminar will be available live through Webex on their scheduled dates. If you have any questions, please contact vvelez@njit.edu for more information.
published 16 Feb 2021
---
Dr. Maurie J. Cohen Explores the Underlying Environmental Problems of Sustainability in New Book
In this new primer published by Polity, Dr. Maurie J. Cohen "examines the historical foundations and contemporary understandings of sustainable development." 
Polity explains, "In this clear-eyed book, Maurie Cohen introduces students to the concept of sustainability, tracing its history and application from local land-use practices, construction techniques and reorientation of business models to national and global institutions seeking to foster sustainable practices. Examining sustainable development in scientific, technological, social and political terms, he shows that it remains an elusive concept and evidence of its unambiguous achievements can be difficult to ascertain. Moreover, developed and developing countries have formulated divergent agendas to engage the notion of sustainability, further complicating its application and progress across the world. Innovative and readily accessible to students from a range of disciplines, this primer takes us on a journey to show that sustainability is as much about unchartered waters as it is about formulating answers to urgent global issues."
Read more about Sustainability here!
published 11 Jan 2021